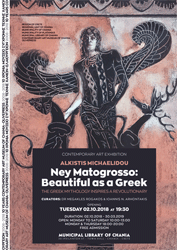 CHANIA - The Municipal Library of Chania, in collaboration with the Contemporary Art Museum of Chania - Olivepress, presents the art exhibition "Ney Matogrosso: Beautiful as a Greek - The Greek Mythology inspires a Revolutionary" by Alkistis Michaelidou, on Tuesday, 2 October 2018, at 19:30, co-curated by Dr Megakles Rogakos and Ioannis N. Arhontakis at the Municipal Library of Chania, Crete.
Art historian Dr Rogakos notes for the exhibition: "For Michaelidou, Ney is an emblematic figure, a man-symbol of liberty, and a lone revolutionary who, through art, has claimed individual liberties. He truly liberates and boldly defends whatever is most real and genuine within man. He has self-imposed principles and a high sense of justice. On this basis he made his life and art an unbroken unity. He has an ability to interact with the audience, even of a different culture and language, and penetrate into its psychology. Michaelidou recognises, «without knowing him or his language I could feel all his messages, activated slowly within me». So strong and clear is his art. In addition, with his ability of masquerading and transformation, he awakened within her archetypal images and elements of Greek mythology."
The title of the exhibition is inspired by a poem by the prominent Greek poet Nikos Engonopoulos (1907-1985) from his poem, Bolivar (1942-1943), which refers to the conquest of freedom in Latin America. The co-curator of the exhibition, Mr Arhontakis, notes that besides the fact that Michaelidou is native to Crete, the subject of the exhibition has a special appeal to Cretan art lovers. Ney Matogroso, who strongly defends the poor, the sexual liberation, the jungle animals and the environment, is a great example to be imitated. As Crete has raised great historical revolutionaries, it could also be said that Ney is beautiful also as a Cretan.