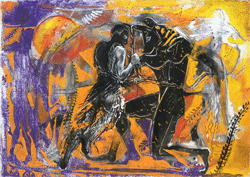 Completing 10 years (2008-2018) of active cultural presence, the Contemporary Art Museum of Chania - Olivepress presents a series of 10 visual exhibitions in its annual visual arts program for 2018 with an anniversary character and a spirit of extroversion. The aim is to present the contemporary art of the last 20 years in new correlations and visual combinations of exploration. In addition to the extrovert mood, exhibitions outside the Greek border will be presented in collaboration with similar institutions abroad aiming at the promotion of modern Greek art in dialogue with the world's visual arts by presenting the highly active modern Greek art scene. The exhibition of Alkistis Michaelidou is part of the festive program "2008-2018: 10 Years of Contemporary Art Museum of Chania - Olivepress" and is co-organised by the Region of Crete, the District of Chania, the Municipality of Chania, the Municipality of Platanias, the Municipal Library of Chania and the Contemporary Art Museum of Chania - Olivepress. The exhibition will run from 2 October 2018 through 30 March 2019. Open from Monday to Saturday 10: 00-13: 00 and Monday and Thursday 18:00-20:00 with free admission.
Alkistis Michaelidou was born in Crete in 1959 and studied at the Athens School of Fine Arts with painters Yannis Moralis and Dimitris Mytaras, and Pavlos Christodoulides in the art of art. According to historian Antonis Kotidis, "Michaelidou is among the most important representatives of the 2000-2010 decade". For her visual work she received awards and distinctions in the 4th, 6th and 7th International Biennial of Drawing, Pilsen, Czech Republic (2004, 2008 nd 2010). She participated in two Cinema Festivals and designed the covers of 15 books. She presented her work in five personal exhibitions and in 38 group exhibitions in Greece and abroad. Her works are kept in institutions, museums and private collections inside and outside Greece. She lives and works in Athens.
Ney de Souza Pereira, known as Ney Matogrosso, is a famous Brazilian activist, singer, dancer, actor and director, with 45 years of artistic presence. A revolutionary, subversive and advocate of freedom, a former hippie, he is recognised as one of the most important figures in his country's artistic scene, not only Brazil, but the whole of Latin America with a global reach. The Montreux Festival, in 1983, boosted his artistic reputation and he was awarded the Latin Grammy in 2014. He lives, creates and works in Rio de Janeiro.